Normally, I am completely annoyed by anyone who yells out, "Look at me!". But, today I just can't help yelling it out myself!
Thanks to Kristen, at Ladybug Teaching Resources, my blog has a new and improved look! She is so talented and easy to work with. Please check out her designs. Very impressive!
I just love the new look and I hope you do too! Feel free to grab my button if you wish.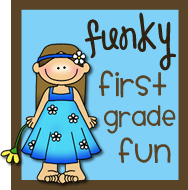 Thank you, Kristen!!!!!!