Last month, we opened the theater in our classroom. I inherited an old "puppet show" theater from a retired teacher. It is large enough for 2 or 3 kids to stand behind. It needed to new curtains, so I broke out the sewing machine to fix that problem. I fell in love with the summer weight corduroy fabric that matched the curtains in my room (with opposite colors).
Welcome to our theater!
We introduced the "theater" by using the Readers Theater Partner Plays for Young Learners by my friend, Kristin, from A Teeny Tiny Teacher. I LOVE her plays and so do my students! They are super easy to use. You can click on the image below to go to her Tpt store if you want to buy a set. I'm secretly hoping she will make a fairy tale set next.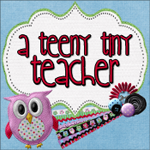 I'm gearin' up for a weekend full of soccer games and birthday parties! Happy Friday!