Two weeks ago, 3 moms (one of them was me) and 5 ten year olds (one of them was my daughter) went to Detroit to see Taylor Swift with 55,000 other folks.
I'm not much of a concert person. Why? I'm 4 feet 11 inches short.
The view of everyone's back is free at church. :)
But, I went and there she was...
It was fun. The performance was impressive, the view not so much.
Luckily, the jumbo screen was hanging high enough right
in front of our seats
that I could take this picture of the screen
that looks a little like a normal person's view
minus all the backs that I see.
And then...
Forget about Taylor Swift...
Last Friday was truly my lucky day!
I met Kim Adsit!!
She didn't sing Trouble and she wasn't wearing red,
but she is definitely my kind of rockstar!
I attended Kim Adsit's presentation DI for the Little Guy (Differentiated Instruction).
Kim is a retired teacher, co-author of Kindergals,
full time presenter for SDE
and a soon to be grandma.
If she is presenting anywhere near you, I highly recommend
that you jump at the chance to hear her speak.
It was an truly an honor to meet her.
Here is the proof that I met her.
She was nice enough to take her heels off and I kept my super tall sandals on...
so we could be in the same photo.
I learned so much from Kim's presentation. I also filled up my Tpt shopping cart with several of her products. Kim presented about what I consider to be the perfect balance of guided reading and reader's workshop for lower elementary classrooms. I've attended several presentations about reader's workshop and read several books with very different philosophies. In my mind, reader's workshop and guided reading time are two very separate things with different goals in the lower elementary classrooms. If I'm doing a good job during reader's workshop time, then I can reinforce those skills/concepts during guided reading time. In a perfect world, the things my students learn in reader's workshop will help them during their guided reading time, but my guided reading time is not replaced by the presence of a reader's workshop model in my classroom.
Kim's presentation was also full of reminders that it is possible to teach the common core standards, differentiate for each learner and continue to use the fun things that motivate our little ones to learn. In the past five years, I've been feeling like I need to hang a banner outside my door that says "Yes, this hula hoop vowel game matches one of the standards!" No one is really questioning me, but I feel an increasing pressure to defend things that I know are developmentally appropriate for my first graders.
Head over to check out the giveaway on Kim's blog.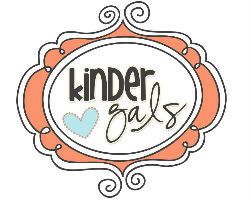 I can't wait to try out some of her reader's workshop units next year! Thank you, Kim! Happy summer to you!