I am super excited about Holly Bloggy Christmas! I signed myself up and soon I will find out who my secret Holly Bloggy pal will be. I can't wait! I LOVE Christmas and already started my Christmas crafting and shopping!
You can find all the details you need to sign up by clicking on the Holly Bloggy logo below. It's quick and easy! Hurry... you need to sign up before October 31 to participate.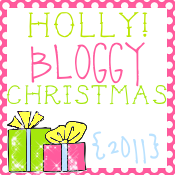 Holly Bloggy Christmas is being hosted by Ms. Preppy and Sarah. They both have fabulous blogs!